Welcome To The Sheriff's Office
Beaver County Sheriff's Office will be conducting online Sheriff sales instead of in person starting August 9, 2021. For more Information please visit the website below:
Mission Statement
---
The mission of the Beaver County Sheriff's Office is to protect the citizens of the county, and provide services to taxpayers with honesty, integrity, and transparency. The Sheriff's Office will serve citizens regardless of race, color, gender, religious creed, sexual orientation, age, origin, ancestry, economic status, handicap, or disability.
To serve and enforce all orders of the courts such as, serving bench warrants, civil writs, and protection from abuse orders.
To conduct levies, and sales of personal property and real estate.
To safely and efficiently transport prisoners to and from county, state and federal corrections institutions for court appearances, other necessary functions, and to extradite fugitives.
To provide processing assistance and booking services to local, state and federal law enforcement agencies, and to assist local municipal police departments.
To provide protection and security for the courts, courthouse, and other county assets.
To effect arrests for on view felonies, breaches of the peace, and violations of the Pennsylvania Vehicle Code.
To issue concealed weapons permits and educate the public in firearms safety.
To provide needed services during times of civil unrest or countywide emergencies.
To facilitate cooperation among all county law enforcement agencies in furtherance of the highest standards of professionalism.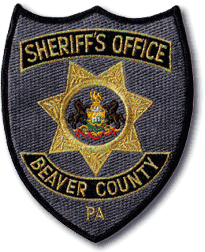 The Beaver County Sheriff's Office is the largest law enforcement agency in Beaver County with an authorized complement of a Chief Deputy, Captain, Lieutenant, 20 full-time deputies, 23 part-time deputies, 3 security monitors, and 7 clerical staff. Primary responsibilities include security for the Beaver County Courthouse and security for the courtrooms and court staff. Deputies staff the security checkpoints, are present in the County's 9 courtrooms, and maintain a presence within the courthouse allowing for a safe environment for county employees and visitors. The Sheriff's Office also staffs the security desk at the Human Services Building in Beaver Falls which houses Children and Youth Services, Behavioral Health, and the Office on Aging.
The deputies are tasked with transportation of incarcerated prisoners from the Beaver County Jail located in Hopewell Township near West Aliquippa, to the Courthouse for all criminal proceedings in Beaver County.

Additionally, this responsibility extends to the transportation of inmates at other County Jails, State Correctional Institutions in the Commonwealth, and the extradition of prisoners from out of state facilities to Beaver County. Lastly, the Sheriff's Office is responsible for the transportation of juveniles who are placed by the courts in a juvenile facility.

While prisoners are in the custody of the Sheriff's Office, deputies are responsible for moving them to and from their scheduled courtrooms, and maintaining security of them. In 2018, the Beaver County Sheriff's Office transported 2,842 prisoners to/from the Beaver County Jail, 423 prisoners to/from other county or state facilities, and transported 123 juveniles.
The Regional Booking Center (RBC), located at the Beaver County Jail, is also run by the Sheriff's Office, and is staffed by deputies and Corrections Officers.

They handle the intake and processing of prisoners, as well as Video Arraignments and data entry for state and federal databases.

The RBC handled 4,507 bookings as part of 7,566 overall log entries in 2018.

Also headquartered at the Jail, the Warrant Unit is responsible for serving and administratively processing all County Bench Warrants issued by the Court of Common Pleas.

In, 2018 the Warrant Unit and other deputies cleared 1,958 warrants.
The Sheriff's Office is also responsible for serving final Protection From Abuse Orders (PFAs), which are issued by the courts, generally in regards to domestic violence cases.

Last year, 998 PFAs and returns were processed by the Sheriff's Office.

Serving civil writs and other civil processes are also a large part of the Sheriff's Office responsibilities, as 3,599 civil papers were processed, including 2,204 civil writs served by the deputies.
The Sheriff's Office maintains two K9 units, both of which are dual-purpose.

One, Rangwo is trained in explosives detection, the other, Ruke narcotics/drug detection.

Both are trained to assist patrol officers and in tracking.

The K9 units are available to assist local, state and federal law enforcement, and are available for school and civic demonstrations.

The Sheriff's Office also has 7 members on the County's Emergency Services Unit (ESU) tactical team, that responds to high risk incidents, as well as assisting the County Anit-Drug Task Force with serving Search Warrants.

Sheriff Guy serves on the Advisory Panel for ESU.
The Sheriff's Office provides law enforcement support for county events, including the Maple Syrup Festival, Opening of Trout Season, and Food Truck Festival at Brady's Run Park, as well as the Barn Bashes at Economy Park.

Upon request from municipal police departments assistance is provided for local events.
Lastly the Sheriff's Office is responsible for issuing License to Carry (LTC) permits.

5,184 LTC permits were issued last year.
Sheriff's Office


Contact Information
---
General Contact
Phone: 724-770-4600
Fax: 724-728-2412
Email: Sheriff@beavercountypa.gov
Criminal Division
Phone: 724-770-4602
Fax: 724-728-5080
Gun Permits
Phone: 724-770-4614
Bench Warrants
Phone: 724-512-2394
Fax: 724-378-9065
Civil Division
Phone: 724-770-4611

Fax: 724-728-2412
Real Estate
Phone: 724-770-4612
Hours of Operation:
8:30 AM - 4:30 PM, Monday thru Friday (excluding holidays)
License to Carry Registration Hours:
8:30 AM – 3:30 PM, Monday thru Friday (excluding holidays)
After Hours:
Please call Beaver County Police Center at 724-775-0880. Phone answers 24 hours/day.